Raise your hand if you're beyond ready for spring (I'm raising 2 hands right now BTW)!!! Beautiful sunshine, longer days for outdoor activities, and spring fashions are all reasons to welcome spring with open arms!
In all honesty, I'm still trying to get a handle on my favorite spring trends for 2019. Right now I feel like a kid in a candy store because there are so many great eye-catching spring pieces. In fact, I'm starting to think I may have to go back to doing a blogpost every week, maybe even twice a week in order to cover all of the exciting options!
Enough with the preliminaries though, let's get to the business at hand. Florals in general are obviously a spring staple each season, but green floral print in particular is an exciting trend ushering in spring 2019. This is something that has been brewing for quite some time actually. Believe it or not, I started noticing green florals at the end of summer/early fall last year. The look in the photo below features a green floral kimono from a while back, but it's still one of my favorites! I will link similar options at the end of this post.
The vibrancy of the green really stands out with these florals and makes a strong spring statement. Whether you're going out to dinner with your girls, catching a movie for date night, or enjoying a casual outdoor lunch, this trend is sure to get you noticed! I get compliments and inquiries about my green florals everywhere I go, so be forewarned that it will likely be the same for you too.
My final green floral look will be familiar to those of you who have been following me on Instagram and/or reading my blogposts. I'm looking forward to pairing this green floral kimono with dresses and skirts as well to create fresh new seasonal looks. So look out for how I update this older piece and be sure to let me know what you think.
There's really not a whole lot more to say about this trend because as you can see it really speaks for itself. Green florals are absolutely gorgeous, get you noticed, and provide an instant mood boost anytime you wear them. Be sure to leave comments on this post, sign up for the newsletter, and tag me on Instagram wearing your florals (green or any others).
Stay styled,
Andrea Elainne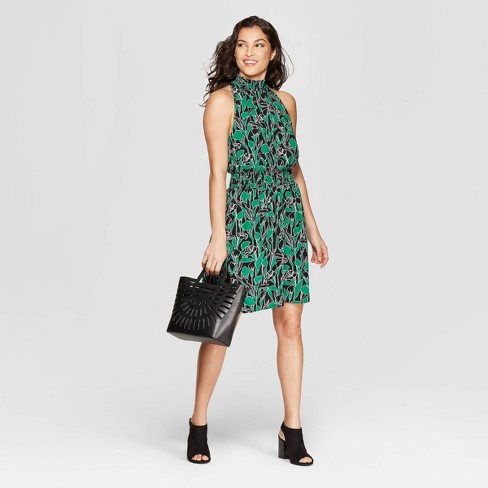 Women's Floral Print Sleeveless Halter Neck Dress – A New Day™ Black/Green
Sam Edelman Women's Patti Dress Sandal
This site contains affiliate links which means if you make a purchase I may make a commission at no extra cost to you.